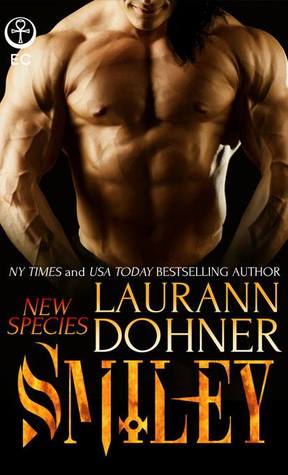 Description
Vanni is furious when her fiancé tricks her into attending a conference where his father's church is protesting the New Species Organization. She hates everything those vile bigots stand for. Vanni goes to the bar to cool off and ends up seated next to a handsome New Species. Things heat up fast when they are both drugged.

Smiley doesn't want to believe the sweet human would dose them with the breeding drug. He's willing to trust her and determined to save her life. He'll hold her. Protect her. Offer up his body to distract them both from the pain. She is his female, even if she doesn't realize it yet.
My Review
She has done it again!!! She has finally given me Smileys story, I've been in love with him forever and when I saw this was going to be about him I flipped my lid. When Vanni first meets Smiley I trembled with excitement. The actions that followed were so hot I almost imploded myself lol. Gosh I don't know how she does this every damn time!!!
What I loved about this book... I love how possessive Smiley is after just having met her, I love how even thought he has no reason to he trusts her. I love how the whole book went pretty much.
What I didn't like about this book.....nothing! Well except the way her brother treats her after all the drama. Other than that I have nothing bad to say about it.
Overall an excellent eead..but I'm still impatiently waiting for Jericho to come forward and give us his story. I'm rating this one in at 5 hearts!,,