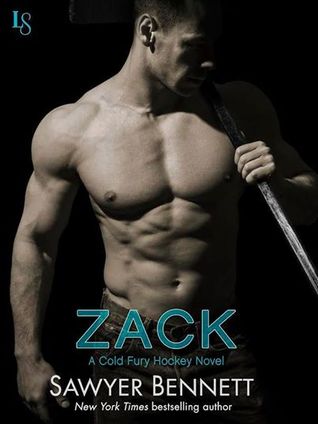 Description
New York Times

bestselling author

Sawyer Bennett

goes for a hat trick with the latest romance in a sexy series about cool-as-ice hockey players and the women heating up their lives.
Rising star Zack Grantham has been stuck in a downward spiral of grief ever since the car accident that left him a single dad and put his career on hold. Back on the road with the Carolina Cold Fury and still crippled by emotional baggage, he's in need of some serious help with his son. But while the nerdy new nanny wins his son's heart, Zack isn't sure he's ready for a woman's touch—even after getting a glimpse of the killer curves she's hiding under those baggy clothes.
Kate Francis usually keeps men like Zack at a distance. Though his athlete's body is honed to perfection, he refuses to move on with his life—and besides, he's her boss. Still, the sparks between them are undeniable, tempting Kate to turn their professional relationship into a personal one. But before she makes a power play for Zack's wounded heart, Kate will have to open him up again and show him that love is worth the fight.
My Review
***I received this ebook from NetGalley and the publisher in return for my honest opinions.***
How to begin this review....I had to really think about it...Not only was it an amazing book, it really touched me and made me think about things differently.
Poor Zack is an amazing hockey player who suffers a tragic event. The death of the woman he had a child with and he thinks it is his fault. His sister helps to arrange a live in nanny for him who comes in the form of Kate. Through the first part of the book he cannot stand her, then she grows on him and he can tell she cares deeply for his son. Then the other middle part of the book he is fighting the attraction he is feeling for her as well as fighting off the guilt he still feels over Gina's death. I felt so sorry for him and also at times mad as hell at him and the way he was treating his relationship with Kate. I do wish there had been more scenes with him talking out his problems to a psychiatrist though. I really love the way the book ended and look forward to possibly another book with some updates on Kate and Zack to see how they along with Ben are doing. Love, love, loved it!!!! I'm rating this one in at four hearts!!!